Getting a Tree Work Company is Just a Call Away!

If the changing seasons are giving you tree problems, or if weather has caused falling branches or even fallen trees - we are here for you.  If you need tree care or management for small properties or large properties, we also have the skill and ability to handle your needs.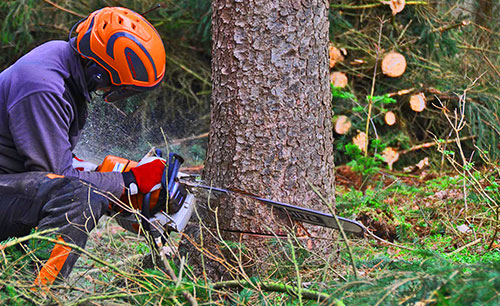 We have experienced tree workers ready to handle the task of taking down trees or managing the wood after they are taken down.  With daily performance of this job, our sense of judgement with falling wood becomes far greater than somone who does this occasionally, or almost never at all. We also use professionally maintained high quality gear and chainsaws.  Judging how to cut, where to cut, were the center of mass is in any falling branch or trunk - that's an intuitive science that comes with deep experience and also a nurtured talent.  We are happy to provide that edge in handling your trees, especially with large and super-large tree removal.  It significantly reduces the risk of mishap or damage from DIY or hiring an inexperienced or out-of-experience person.

What's important is fair pricing.  This means the tree work company is charging fair market rate for quality work.  It can be hard to navigate the field of service providers - but sometimes you can find someone too cheap to be realistic - they won't be insured, so you carry all the liability of literally the third most dangerous job in the work (behind crab fisherman, and soldier). That's a risk no one should bear when dealing with thousand pound pieces of wood falling near the workers themselves or your property assets.  There will also be overpriced providers that rely on guess work and do not adhere to honesty.  Neither outcome is good, so it's best to get a real quote from a trustworthy service.  If you want a no-obligation quote, we are here for you!



Great Service, Great Spirit!

Please reach out - we can't wait to help with any tree situation that arrises!

LOCAL and RELIABLE SERVICE